FAQs & Returns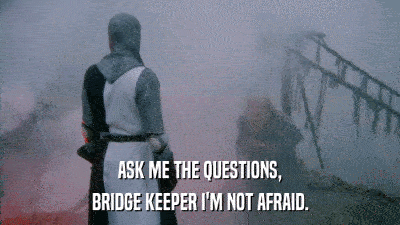 Answers to all your burning questions are below! Feel free to reach out if you puzzled and puzzled till your puzzler was sore.
ORDERS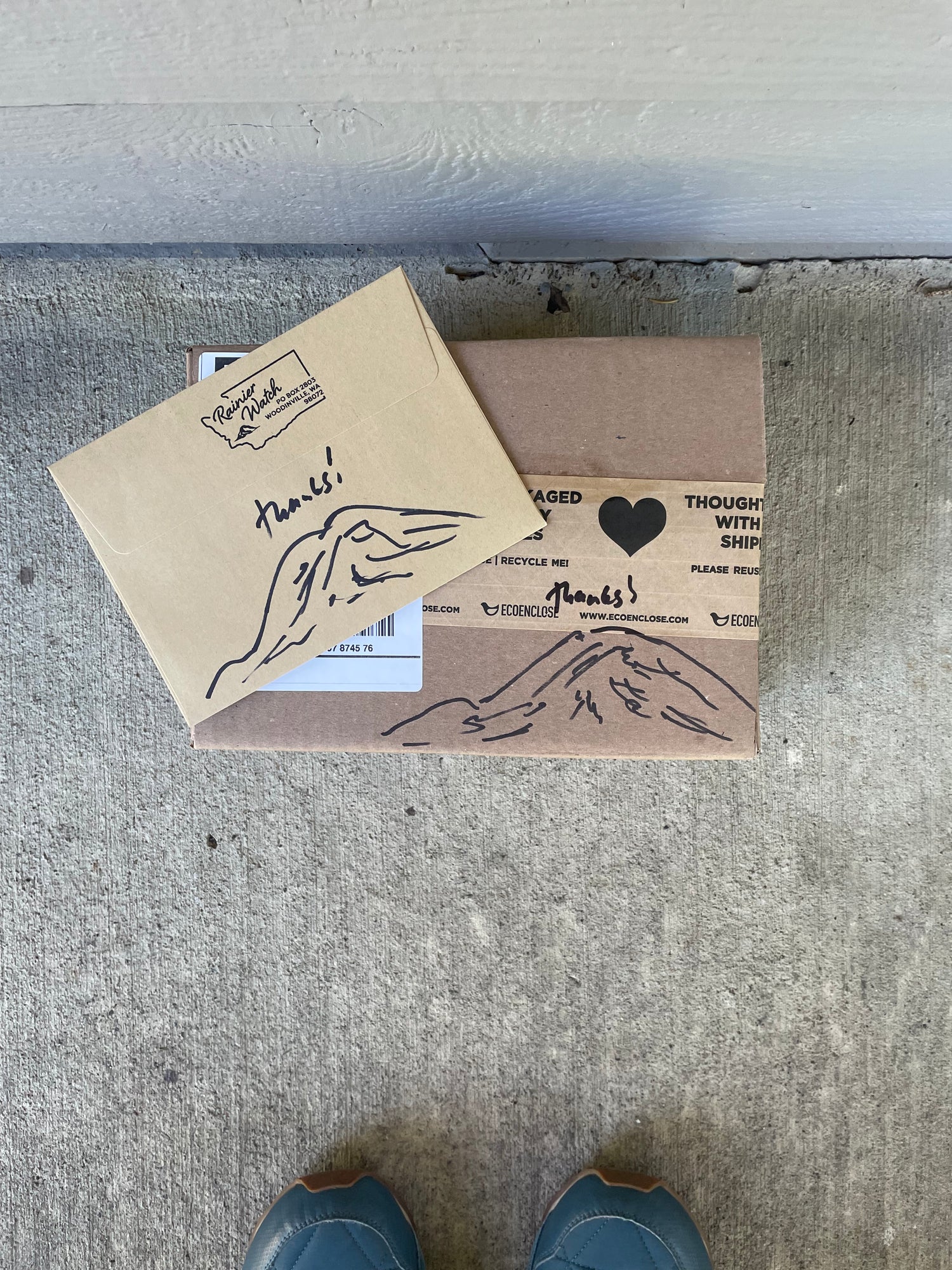 I'm stoked, how soon will my order ship?

You better be stoked! 😀 I personally ship every order from RW Basecamp (aka my spare bedroom)! My goal is to ship every order within 5 business days.
My #RainierWatchGear doesn't fit, can I make a return?

Yes! I want everyone to be happy with your purchase and don't want things to end up in landfills. Please contact me within 30 days so I can help you out!
Sweeeet, when will the order show up?

Usually orders show up within 5 business days after being shipped! Especially faster if you are in WA state.
Will I get a tracking number?

Yes! Nearly* every order will have tracking so you can stalk the post office waiting for arrival. (*Stickers that go via stamped envelopes won't have tracking)
What kind of boxes do you use?

I use boxes from earth friendly packaging company, EcoEnclose, for all my packaging needs! Boxes are made from 100% recycled content and 95% post-consumer waste and are curbside recyclable, and naturally biodegradable. (On the off chance I run out of ecofriendly boxes I may re-purpose other shipping boxes for your order)
What kind of polymailers do you use?

Like my boxes, my polymailers are made by earth friendly packaging company EcoEnclose! They are more sustainable than compostable mailers and are made from 100% recycled content, 50% post-consumer waste content.
Why don't you use compostable mail bags that are oh so trendy?
How do I recycle your polymailer bag?

Great question and mad props for thinking about that! They are reusable with dual adhesive strips and recyclable at a local plastic recycling location (like most supermarkets - you can mail it into to EcoEnclose's Take Back Program)
RAINIER WATCH GEAR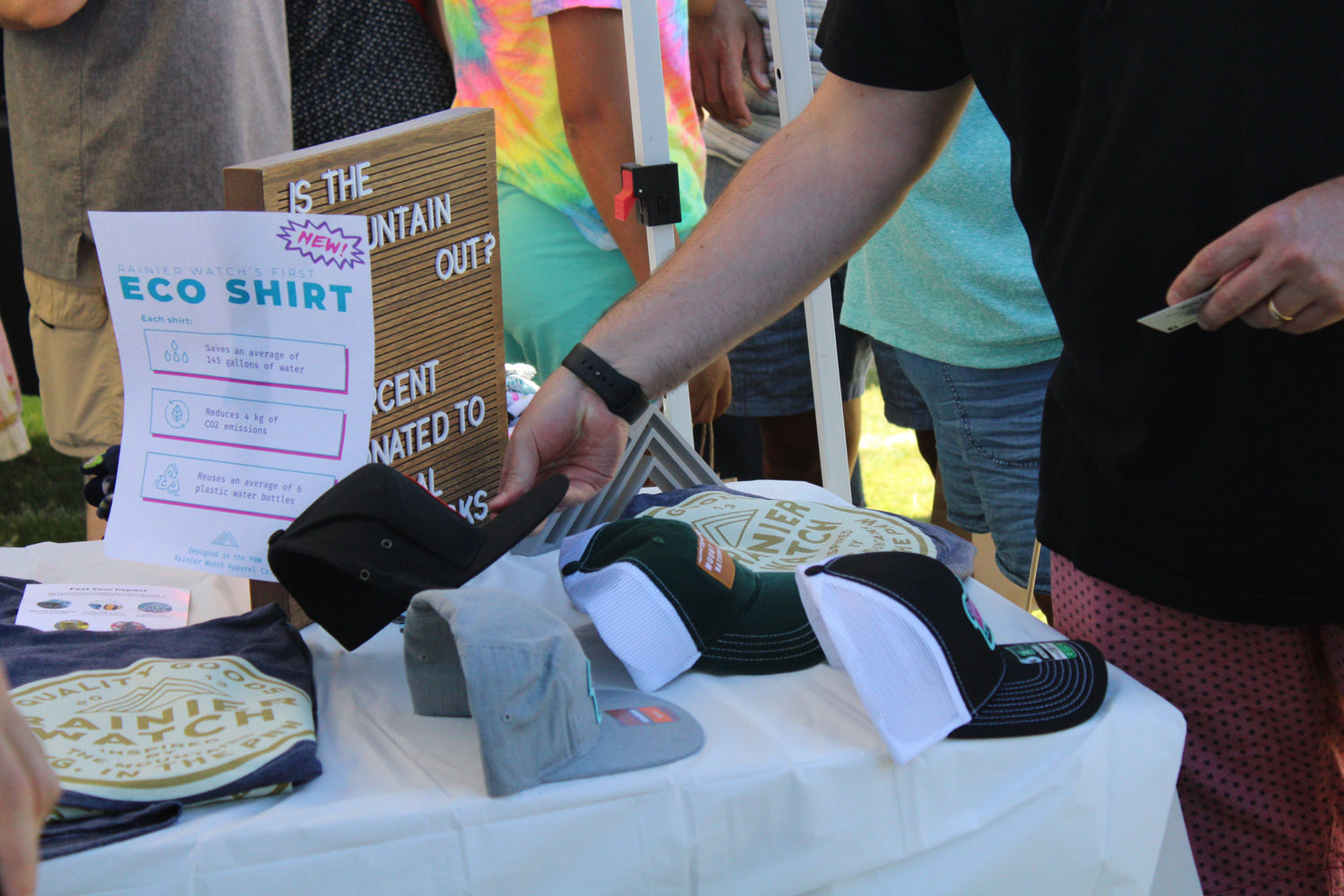 Where are your shirts printed?

In Washington State! Either in Seattle or Bellingham by some awesome local print shops.
Who designs your apparel?

I do most of the designs myself -- if I run out of time I hire other designers in Pacific Northwest.
Why is it so expensive?

Great question! Our gear is going to be more expensive than what you find at your local supermarket.

1. Giving back - We give back a portion of every sale to the National Parks - by purchasing RW Gear you are supporting them!

2. Buying local - We prioritize making apparel with small businesses in the Pacific Northwest rather than overseas.

3. The best quality - I've spent hours testing and sourcing the best materials so your gear will last for years and years.

4. Small batch goods - RW is a tiny small business and so we can't compete with Walmart who can buy 5 gazillion shirts at a time. Our drops are small and limited.
Do you outsource to China?

Nope! We partner with as many small, local PNW businesses as possible. Yes, this means our costs are a little higher than outsourcing to other states or countries, but we like giving back to the other awesome
businesses in our area and believe in supporting the local economy.
Who makes your Eco Tees?

Our Eco Tees collection is made ethically and earthly friendly by AllMade Apparel. They are the best!
Where are your stickers made?

Right down the road from me in Tukwila, Washington by DieCutStickers.com - they are the best!
How do you support the National Parks with every purchase?
WEBSITE
Is this website secure?

Absolutely! As a professional web developer, I practice top notch
security (like firewalls, 2 factor authentication, and randomly
generated unique passwords) and have numerous barriers in place
protecting any personal data.
Are payments secure?

Additionally payments are processed safely and securely via the industry leading payment processor Shopify. We don't save your payment
information anywhere and Shopify uses top, bank-level encryption and
security to keep your information safe.
Who made this site?

Me! I built it in Shopify using one of their sweet 2.0 themes.
This site is amazing. I'm very jealous.

Awww well shuuuucks, you are too kind! Although that's not a question...
What is the airspeed velocity of an unladen swallow?